I will train you and your staff to be the incredible science communicators
that your audience expects. 
Workshops and Trainings
A great museum workshop leader has the ability to share his skills with others.  Part of that is inspiring them to take risks and be creative in a responsible way.  Part is teaching specific skills.  Part is helping them create an achievable game plan, then helping them achieve it.
Each of the workshops in this series was designed for a specific client to enable them to achieve their individual goals.
These are just starting points.  Your workshops will be tailored just for you.
You can see mindmaps for several of these workshops by CLICKING HERE.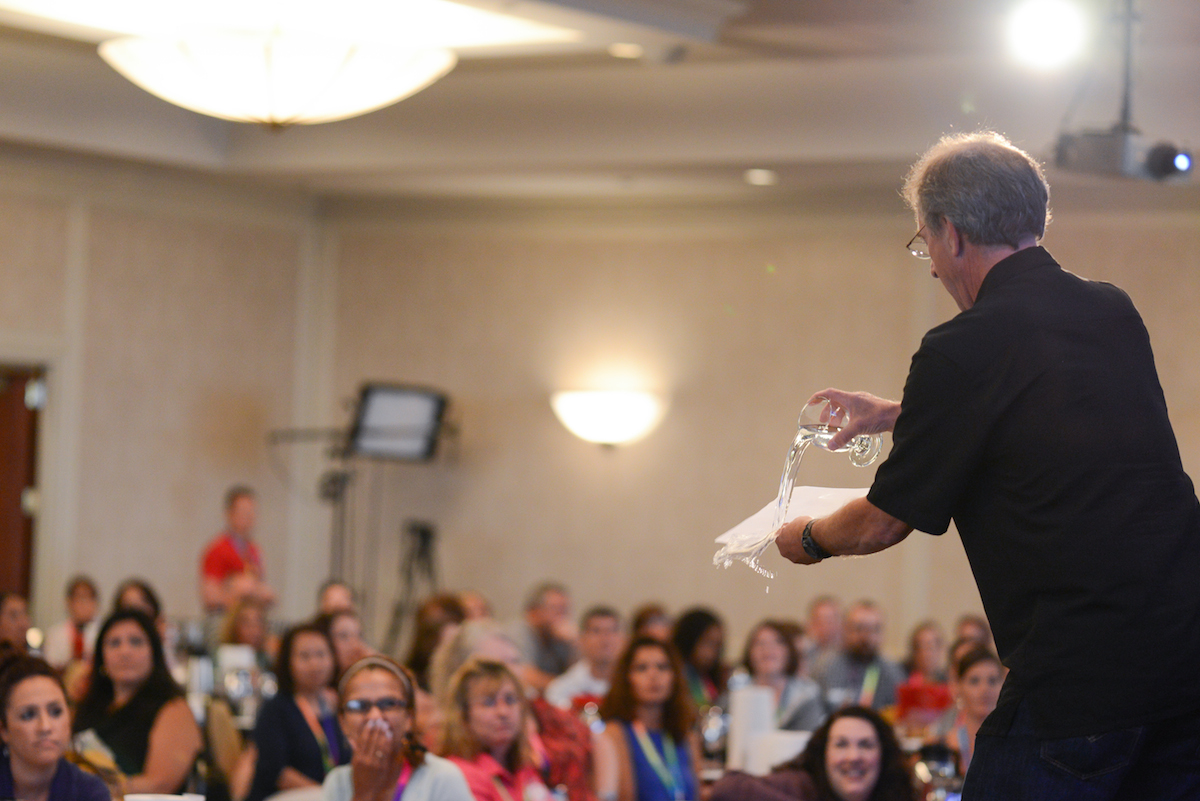 Tapping into the Creativity you already have.  This is a workshop for all museum staff – from front line staff to senior management.
Are you looking for new approaches to your exhibits and programs?  Perhaps a novel twist on a project you are planning?  Something that will excite your staff and inspire your visitors?  The answer is to fire up your creative energy.
Everybody is creative.  The trick is to use it.  Luckily there are tried and true methods to unleash your creativity.  It is a skill, just like any other skill.  And, just as with other skills, there are techniques to learn and effective ways to practice.  In this workshop you and your staff will learn many of these practical methods and practice applying them to the real-world challenges you are facing.  The results will surprise you.
In this picture, at the Singapore Science Centre, look at how many different ways the workshop participants interpreted "Earth-Air-Fire-Water."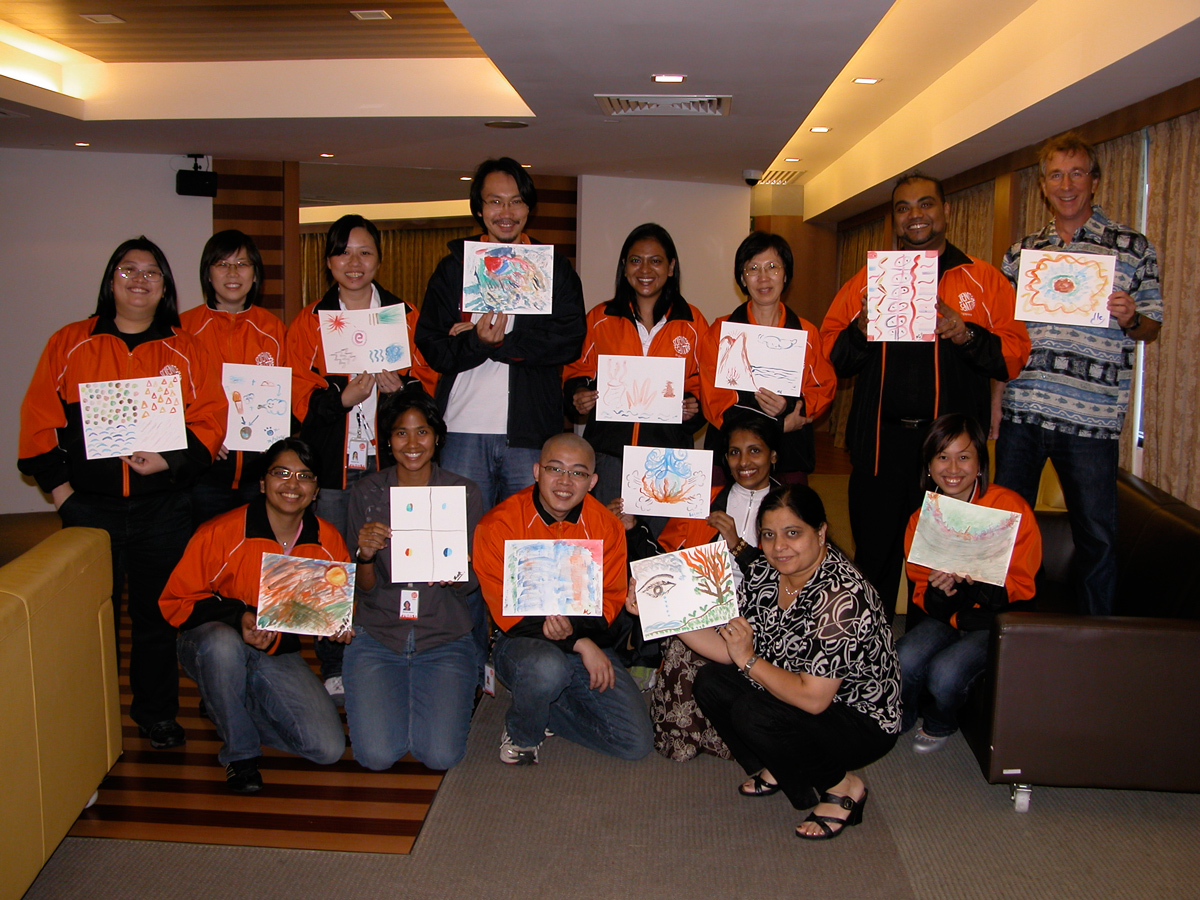 How to develop programs that get your visitors thinking, and that anyone can do.  This is a workshop for program developers.
Creating a dynamic museum program is not just about explaining a science concept in an entertaining way (although that is part of it.)  It is about building a show or program that shapes your visitors' thinking in predictable ways.  What do you want your visitors to know?  What do you want them to feel?  What do you want them to do?  What's more, how do you create a program that gets your visitors to know, feel, and do what you hope they will?
I have over four decades experience as a professional entertainer.  I interact with audiences all the time, in museums and on the theatrical stage.  And, I have written countless science museum programs in a variety of styles.  In this workshop, I share the techniques and strategies I have learned and developed over many years.
And, to make sure that those techniques and strategies actually get used, the second half of the workshop is devoted to working on programs that your staff bring to the table.  This is a very practical workshop with very tangible results.
 
Integrating Exhibits and Programs. This is a workshop for exhibit planners, program developers, and gallery managers.
In many traditional museums, the shows, demos, programs, and visitor/staff interactions are an afterthought.  The exhibit gets built; then it is turned over to the education department to, "come up with some programming."  This is no longer acceptable.  Instead, when all of the elements of the visitor experience work in concert, you achieve maximum effect.  Not only do you maximize the visitors' enjoyment, you maximize the visitors' learning.  That is the philosophy of integrating exhibits and programs.
This workshop is part technique and part brainstorming of specific projects that your team is already working on.  A little bit of effort in the planning stages will magnify your results many times over.
 
Creating Effective Performing Spaces.  This is a workshop for exhibit planners and gallery managers.
At the most basic level, in order to have a successful performance, the entire audience must be able to see and be able to hear the performer.  Sounds obvious.  But you would be surprised at how often this "obvious" fact is overlooked.  Even without a big budget, some simple changes to lighting, sight lines, and how you define your "stage" will vastly change the experience for your visitors.  You will learn the essential elements needed to design permanent stages as well as "virtual stages" which have maximum impact while in use, then disappear to become non-descript exhibit space when not in use.  They make the gallery come alive.
Whether you are building a new gallery from scratch, or want to improve the theatrical experience in a current one, this workshop is for you.
 
Become a master at capturing visitors' imaginations in museum galleries.  This workshop is terrific for floor staff who interact with visitors everyday.
In many ways, your floor staff have the most important job in your museum.  They are the ones who read your guests' needs and desires and funnel them into a journey of curiosity.  They are the ones who can start a child on a lifetime love of science and learning.  They are the ones who will help shape the next generation of science-literate citizens.
To do that, your front line staff must be equipped with the best tools and techniques available – from effective science communication to fabulous customer service.  In this workshop your staff will acquire the skills needed to become truly memorable museum science educators.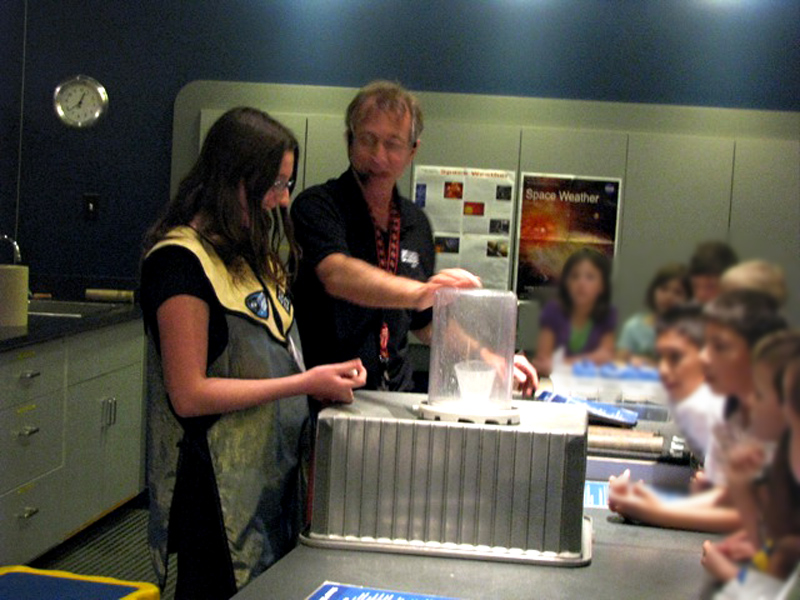 Museum Performing Technique.   This is a workshop for museum performers and other floor staff.
Every day your visitors watch professional performers and entertainers.  On TV, on the Internet, or in live theater.  They know what's good and what is not.  It is critical that they see high quality performing when they visit your museum – not something that looks like an amateur show.
Let's face it.  Not everyone can be a Meryl Streep.  But, everyone should be the best that they can be.  Your visitors expect that.  That is what will keep them coming back for more.
I have been a professional performer since 1973.  When you are out in the show-biz world, you have to be good to survive.  I have done literally thousands of shows in my career, in all sorts of venues.  From large auditoriums to dinner theaters to intimate settings.  As much as performing is an art, it is also a craft.  There are specific theatrical techniques which professional performers use to maximize their impact on an audience.   Unfortunately, many people who perform in museums have never been exposed to these techniques.
In this workshop your staff will acquire tools they can use to dramatically improve their performing skills.  In addition, I will watch them perform in rehearsals, or, in front of museum audiences, and provide individualized critiques to raise their performing skills to the next level.